Sam Johnson, Service Manager, and Cumberland Service Team Featured in Fleet Services Magazine
Fleet Services Technology has featured Cumberland's Service Manager (Sam Johnson) and Service Team in their October 2019 magazine!
Samantha Johnson drives efficient shop operations at Cumberland International Trucks
See the Magazine Here /// See the Online Article Here
For Samantha Johnson, service manager at Cumberland International Trucks in Nashville, it's all about communication. "An awareness of everything is a big piece of the success of our operation," she says. "By communicating effectively internally, with our other shop and with suppliers, we can keep our customers up and running."
With facilities in Nashville and Murfreesboro, Cumberland is in the process of building a third location in Lebanon, Tenn. The International dealership services all makes of medium- and heavy-duty trucks and buses, as well as yard tractors and specialty vehicles from Capacity, Autocar and Spartan.
Overseeing shop operations at the company's main facility in Nashville, Johnson leads a team of 23 shop and five mobile technicians, and a staff that also includes four service advisors. The 22-bay shop is open from 7 a.m. until midnight daily and its eight mobile service units provide maintenance and repairs at two major fleets and roadside service.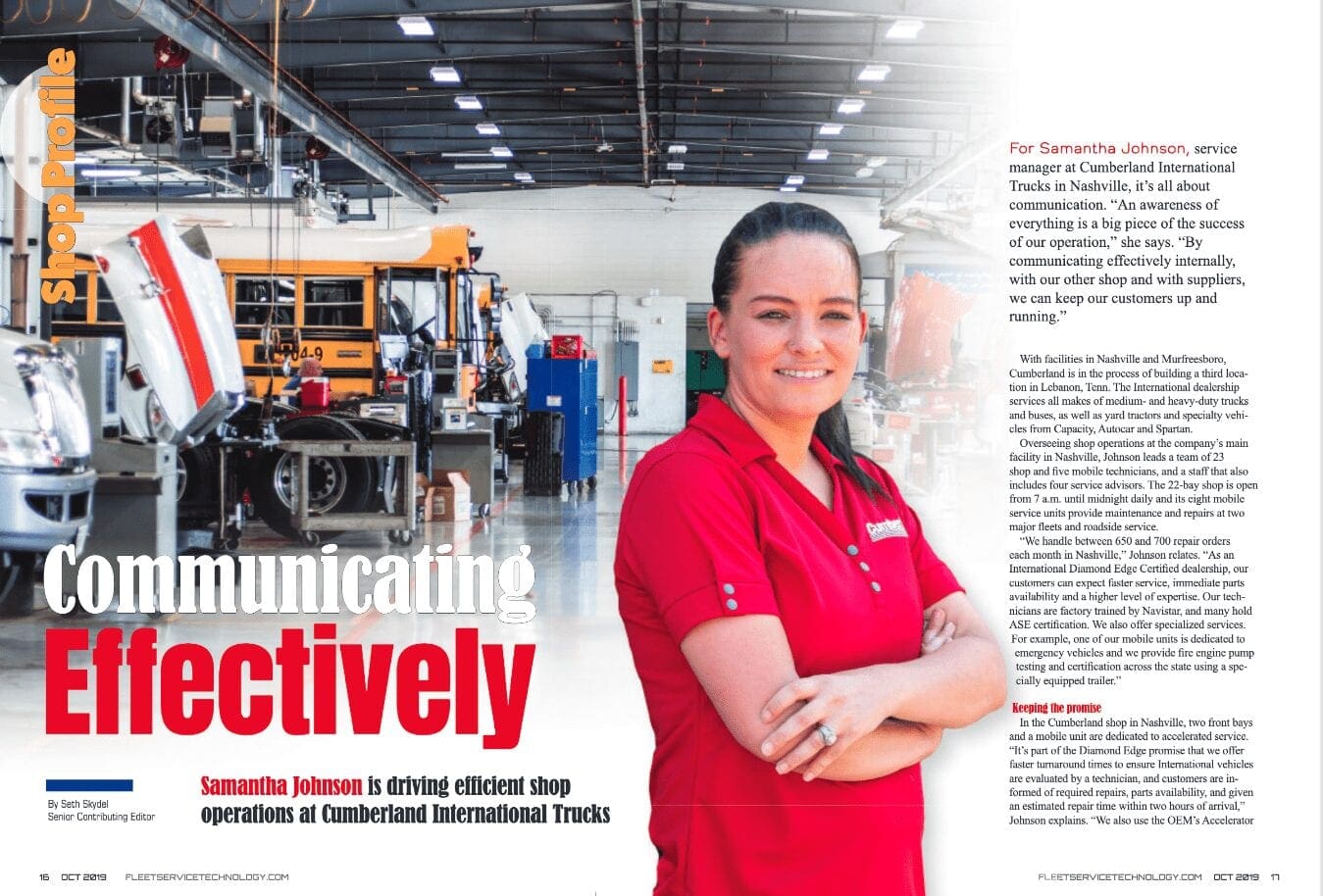 "We handle between 650 and 700 repair orders each month in Nashville," Johnson relates. "As an International Diamond Edge Certified dealership, our customers can expect faster service, immediate parts availability and a higher level of expertise. Our technicians are factory trained by Navistar, and many hold ASE certification. We also offer specialized services. For example, one of our mobile units is dedicated to emergency vehicles and we provide fire engine pump testing and certification across the state using a specially equipped trailer."
Keeping the promise
In the Cumberland shop in Nashville, two front bays and a mobile unit are dedicated to accelerated service. "It's part of the Diamond Edge promise that we offer faster turnaround times to ensure International vehicles are evaluated by a technician, and customers are informed of required repairs, parts availability, and given an estimated repair time within two hours of arrival," Johnson explains. "We also use the OEM's Accelerator Write-Up platform for express diagnostics. It's a mobile application that expedites service visits by streamlining the write-up and diagnostic process."
To keep the shop running efficiently, Johnson notes, Cumberland recently started using the Service Web App feature in its Procede Excede dealer management system. "There's a big screen mounted in the center of the shop that shows the status of all jobs, including the amount of time the customer was told it would take and the elapsed time," she says. "The display for each case changes color as technicians go through the diagnostic and service process.
"That lets us easily highlight key issues and concerns and keep repairs on track," Johnson continues. "There's also a Procede WIP (Work In Progress) report that shows if we're waiting for diagnostics, approvals on estimates or parts. With that information we can catch bottlenecks that are holding up a truck and move resources to keep things moving."
To facilitate service for customers, Johnson also communicates regularly with Cumberland's other shop. "If we have a truck heading their way, rather than have the customer travel further, we arrange service so it cuts downtime," she says. "With a common management system, a truck's service history is easily accessible at both of our locations. We also share information with vendors so the supplies we need are always available. That includes a local commercial tire dealer and our lubricant provider who monitors sensors in storage tanks and automatically delivers product as needed."
Reducing downtime
As a Diamond Edge Certified dealership, the Cumberland shop in Nashville participates in International's Dealer Inventory Alliance (DIA) to ensure parts are readily available in its inventory. "With the OEM looking at our stocking levels and parts usage they can make recommendations so we don't have to order as frequently," Johnson states. "More importantly, having the correct parts on the shelf improves shop productivity and reduces downtime for service and repairs."
To limit the time it takes to access parts, the Cumberland shop is also equipped with an Hänel Lean-Lift automated vertical storage system. Similar to inventory technology used in a high-bay warehouse, the system uses available height to store parts and bring requested items automatically to an access area in seconds.
"That system makes it much easier for our parts staff," Johnson says. "It also improves technician productivity because there's no time spent searching for parts or going to the warehouse to retrieve them. We don't even have a back parts counter any longer."
Other solutions in the Cumberland shop are boosting technician productivity as well. For customers using Navistar's OnCommand Connection all-makes diagnostic system, technicians have easy-to-look-at lists of fault codes and access to action plans so trucks can be repaired faster.
Johnson also points to the Navistar Repair Advocate program that allows technicians to collaborate with the OEM's experts about issues with vehicles. In addition, she says the Cumberland staff makes use of an International Facebook app on which technicians can communicate about common problems and solutions.
Attracting technicians
When it comes to technician recruitment, Johnson says that Cumberland International has less of a shortage issue than other employers in the Nashville area. "We have an in-house trainer who works with local high schools and vocational schools on their curriculum, and we often have tours of our facility for students to get them interested in a career with us," she relates.
"We also have a relationship with the Tennessee College for Applied Technology and the Lincoln Technical Institute, and have an internship program for their students," Johnson adds. "There's also a dynamometer at the college, which was installed at our suggestion, where we bring some customer trucks to demonstrate how it can be used in actual service operations. Overall, our goal is to help students get to know us and hopefully make Cumberland the first place they think of when they're looking for a job when they graduate."
Johnson has worked at Cumberland International for the past five years. The Massachusetts native has an automotive service background and a self described passion for diesel technology that stems from growing up with a grandfather in the construction business.
Initially hired at Cumberland as a service advisor, Johnson was quickly promoted to shop foreman, and then to assistant service manager before taking on her current role. "Cumberland likes to promote people from within and helps its managers develop the skills they need to run a successful operation," she says. "There are management classes and training in skills like interviewing and orienting employees, as well as effective negotiating."
Jay Partington, director of fixed operations at Cumberland, says that Johnson's done a great job in each position she's held at Cumberland. "But," he continues, "the respect that everyone has for her comes from her professional demeanor and her ability to work well with everybody," he says.
For Johnson, the goal is to maximize uptime for customers and provide a best-in-class service experience. "Along with a well outfitted shop and dedicated, proficient and productive technicians," she says, "it's communication that lets us effectively do whatever it takes to keep the customer up and running."
Disclaimer - All information, inventory, photos and pricing are subject to change without notice. All liability expressly disclaimed. Copyright Cumberland Companies © 2020