COST-EFFECTIVE ALTERNATIVES TO TRUCK OWNERSHIP
From the Premier Commercial Truck Lease and Rental Company in North America
LEASING IS THE TRANSPORTATION SOLUTION YOU CANNOT AFFORD TO IGNORE…
Commercial truck ownership is getting more challenging and costly to manage every day. For most well-run businesses, leasing is a superior financial and operational alternative. Idealease offers a variety of comprehensive support services that allow you to manage your business more effectively and hassle-free than ever before.
FULL SERVICE LEASE
Get the vehicle specs you need, predictable costs for all vehicle maintenance, Priority Service, and 24/7 Roadside Assistance.
FULL SERVICE EQUITY LEASE
The perfect solution for companies that must own their vehicles for tax purposes. Retain tax ownership and establish equity in your fleet while receiving all the benefits of a Full Service Lease.
OWNERSHIP TRANSITION
Unlock the equity that is tied up in your truck fleet and put cash back in your business. Learn the true cost of truck ownership versus the advantages of a fleet buyout and a Full Service Lease.
SHORT & LONG TERM RENTAL
Late model sleepers, day cabs, flat beds, box trucks, refrigerated vehicles and more—available for rent by the day, week or months at a time.
DEDICATED MAINTENANCE
Customized dedicated truck maintenance, Priority Service and a fixed monthly cost for scheduled preventive and unscheduled maintenance.
NATIONAL ACCOUNTS
Idealease offers a comprehensive range of integrated fleet transportation solutions that allow large national and mid-sized regional fleets to improve service to their customers. All Idealease locations work together as one to support and maintain your fleet—so you can operate more efficiently and cost-effectively across all your locations.
MOBILE SERVICE
Highly skilled technicians and well-equipped maintenance vehicles bring service and parts to your location during off-hours.
IDEALNET
24/7 Roadside Assistance service available at more than 430 Idealease locations. The service is provided in-house by trained Idealease staff members.
IDEALEASE FLEET SERVICES
Vehicle legalization and fuel tax reporting in the U.S. The no-fee Idealease Fleet Services Fuel Card eliminates much of the paperwork for tracking, trip reports and fuel tax receipts, and is accepted at more than 43,000 fueling locations in North America.
FREE ANNUAL SAFETY & COMPLIANCE TRAINING
Idealease, in partnership with the National Private Truck Council, is the leader in commercial motor vehicle safety and compliance training including extensive coverage of current CSA regulations. Each year Cumberland Idealease will provide a Safety & Compliance Seminar designed to keep you up to date on the legal requirements needed to keep your business running safely.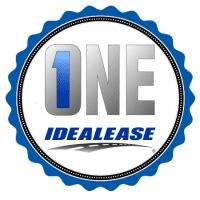 Proud to be a ONE IDEALEASE Location
Cumberland Idealease is a ONE IDEALEASE location. ONE IDEALEASE honors the Idealease locations that achieve the highest levels of performance in 12 key areas including: professional leadership, customer service, marketing, facilities, dedicated service bays, employee training, and customer safety and compliance education.