OWNERSHIP TRANSITION
Improve Your Cash Flow and Vehicle Uptime
How can you unlock the equity that's tied up in your truck fleet?
Cumberland Idealease can show you the money. Our Ownership Transition program will help you release the cash that is sitting in your truck fleet and improve your service to your customers.
Let's do the math. Using our Acquisition Analysis software, we can show you the true cost of truck ownership and the reasons that more than half of today's private carriers have converted from ownership to leasing. We will develop an ownership buyout offer for your current truck fleet that can include: cash for your existing trucks, replacement with new, fuel efficient trucks, flexible terms, a maintenance plan to improve vehicle uptime, a guaranteed used truck value, and a financial structure that meets your EBITDA, EBIT, ROA, and ROI goals.
A typical private fleet in ownership has 10% to 30% more vehicles than needed. With a Full Service Lease, your vehicles are well maintained, allowing you to significantly reduce the number of trucks you operate, lower your operating costs and keep your promises to your customers.
LEASING IS A SOLUTION YOU CAN'T AFFORD TO IGNORE.
Commercial truck ownership is getting more challenging and costly to manage every day. Consider transitioning to a Full Service Lease and improve your financial ratios.  Your lenders and/or shareholders will thank you.  The fact is that for most well-run businesses, full service leasing is a superior financial and operational alternative to ownership. Take a minute to sit down with an Account Manager at Cumberland Idealease. We will put you in the driver's seat with facts that will help you make the best long-term financial decision for your business.
IS OWNERSHIP TRANSITION RIGHT FOR YOU?
We understand that commercial truck leasing is considered by many to be a high cost convenience. It's not—and we can prove it!  For more than 30 years, Idealease has been the expert in efficiently transitioning private fleets of all sizes from ownership to full service leasing.
Our Ownership Transition program will minimize the cost of acquiring and maintaining a truck fleet while maximizing your ability to provide premium service to your customers.
The Ownership Transition Four Step Process:
LEASE PROGRAM OPTIONS
We will help you select the best leasing option for your business. If you want to keep your vehicles off your balance sheet, a Full Service Lease (also known as an operating lease) is a great option. If you need to own your own trucks for tax reasons or the truck application, our Full Service Equity Lease (also known as a capital lease) is the right choice.
FLEET VALUATION ASSESSMENT
We will analyze the age, size and configuration of your fleet. We can purchase your trucks and replace them with new vehicles or lease them back to you. If replacement trucks are needed, Idealease will ensure that we order the right trucks for your application.
MAINTENANCE PROGRAM SELECTION
If you have trucks that are less than a year old and the spec is correct for the application, we may offer our Guaranteed Maintenance program. For older equipment that meets terms and conditions, we may offer a maintenance program where all services are billed as work is performed.
RELATIONSHIP ORIENTATION
We will meet with your key personnel to review our support services and detail the road map to Ownership Transition. Ownership Transition can be new concept so setting our mutual expectations upfront is critical to building a successful relationship that helps you serve your customers even better.
Unlock the equity in your truck fleet and improve your service to your customers. You can count on our expert Cumberland Idealease Account Manager to show you the true cost of ownership and explain the advantages of a fleet buyout and a Full Service Lease. Our responsive service will help keep your business running smoothly, allowing you to focus even more attention on serving your customers and growing your business.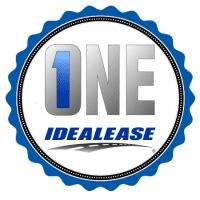 Proud to be a ONE IDEALEASE Location
Cumberland Idealease is a ONE IDEALEASE location. ONE IDEALEASE honors the Idealease locations that achieve the highest levels of performance in 12 key areas including: professional leadership, customer service, marketing, facilities, dedicated service bays, employee training, and customer safety and compliance education.
Ownership Transition Benefits:
Unlock the equity in your truck fleet
Improved cash flow
Conserve credit lines
No down payment
Improved vehicle uptime
Guaranteed maintenance costs
Predictable Maintenance parts & labor
Preventive Maintenance
Predictable tire repair & replacement
Priority Service at more than 430 locations
Dedicated Priority Service bays
Expert technicians
Built-in used truck disposal
Lock in fair residual value
Do the Math!
Full service leasing pulls all six components of truck operations together.
Purchase price
Financing
Used truck disposal
Maintenance services
Peripheral services (washing, rentals, fuel program, etc.)
Administration (truck licensing, regulatory compliance, etc.
Other services available to Idealease Customers
Dedicated Maintenance
Mobile Service (at designated locations)
State and Federal Inspections
Safety & Compliance training and consultation
Driver Training
Replacement Rental Vehicles
Discounted Rental Rates
Idealnet 24/7 Roadside Assistance
Idealease Fleet Services

Idealease Fuel Card
Fuel Tax Reporting
Vehicle Legalization
Motor Vehicle Report Service
Telematics Services