MOBILE TRUCK MAINTENANCE OR EMERGENCY REPAIR SERVICES for your Diesel Vehicles
for semi Trucks, Buses, Yard Spotters, Fire & app Vehicles and more
MOBILE MAINTENANCE OR EMERGENCY REPAIR SERVICES
ROADSIDE 24/7 OR AT YOUR PLACE OF BUSINESS
When you can't get to us – we'll provide services for your semi-truck, fleets, buses, spotters, fire trucks, emergency vehicles and more when and where you need them. 
Welcome to Cumberland's Mobile Diesel Truck Technicians page! We understand the importance of keeping your semi trucks on the road, which is why we offer comprehensive mobile repair and maintenance services for diesel vehicles. Our team of ASE certified technicians is available 24/7 to provide safe and efficient roadside assistance, ensuring minimal downtime and maximum productivity for your business.
Mobile Diesel Mechanics for Seamless Repairs
When your truck breaks down in the middle of your route, don't panic. Simply give Cumberland a call, and our skilled mobile diesel mechanics will be dispatched to your location promptly. We specialize in diagnosing and repairing various truck engine issues, allowing us to get you back on the road quickly and efficiently. Our emergency mobile repair team is equipped with state-of-the-art tools and expertise to handle a wide range of repair needs, ensuring that your truck receives the attention it deserves.
On-Site ASE Certified Technicians for Convenient Maintenance
Preventive maintenance is crucial to the longevity and performance of your diesel truck. At Cumberland, we understand the challenges of finding time to bring your truck to a maintenance shop. That's why we offer on-site diesel truck maintenance services. Our ASE certified technicians will come directly to your place of business, providing comprehensive maintenance solutions tailored to your specific needs. From routine inspections to quick lube services and DOT inspections, we have you covered.
Prompt and Reliable Roadside Repair Services
We know that time is money in the trucking industry, which is why our mobile maintenance teams are dedicated to delivering prompt and reliable roadside repair services. Whether you're dealing with engine malfunctions, electrical issues, or other mechanical problems, our skilled technicians will assess the situation, provide an accurate diagnosis, and implement effective solutions on the spot. Our goal is to minimize your downtime and get you back on the road safely and swiftly.
Count on Cumberland for Mobile Diesel Truck Services
At Cumberland, we are committed to providing exceptional mobile diesel truck services that cater to the unique needs of our clients. Our experienced technicians are trained to work on various types of vehicles, including semi trucks, buses, yard spotters, ambulances, and fire trucks. When it comes to emergency mobile repair and mobile maintenance, you can rely on us to bring the shop to you, ensuring that your vehicles receive the highest level of care and attention, no matter where you are.
Contact our dedicated service team at your local branch to discuss your mobile diesel truck repair and maintenance needs. We'll collaborate with you to find the best solutions that align with your business requirements. Don't let unexpected breakdowns or maintenance tasks slow you down—trust Cumberland's mobile technicians to keep your diesel trucks running smoothly and efficiently.
Some of our Mobile Maintenance & Repair Vehicles
Our Locations
We are headquartered in Nashville, Tennessee with branches in Nashville, Murfreesboro, and Lebanon, Tennessee and branches in Central and Northeast Florida in Orlando, Jacksonville, Ocala, Daytona Beach and Palm Bay.
Truck Engine Repair with Our Mobile Emergency Team
Ever been stuck on the side of the road unable to continue to your final destination? Give our mobile maintenance team a call…. We offer mobile maintenance service, on-site emergency repair service, quick lube and DOT inspection services. The Cumberland mobile technicians will get you up and running as quick as they can, because we know downtime for repairs, and being stuck on the road cost money.
Factory Trained, Award Winning, Certified Diesel Technicians
Our technicians are factory trained, with certifications from ASE and Navistar.  We also service all major brands of equipment including International, Capacity and Cummins.
We offer industry-leading factory programs to our customers. Fleet-Charge offers excellent opportunities to our customers to reduce investment in obsolete inventory, consistent billing and pricing throughout the country.
We specialize in component diagnostics, including electronics and computer programming.  We have alignment services available at all of our locations.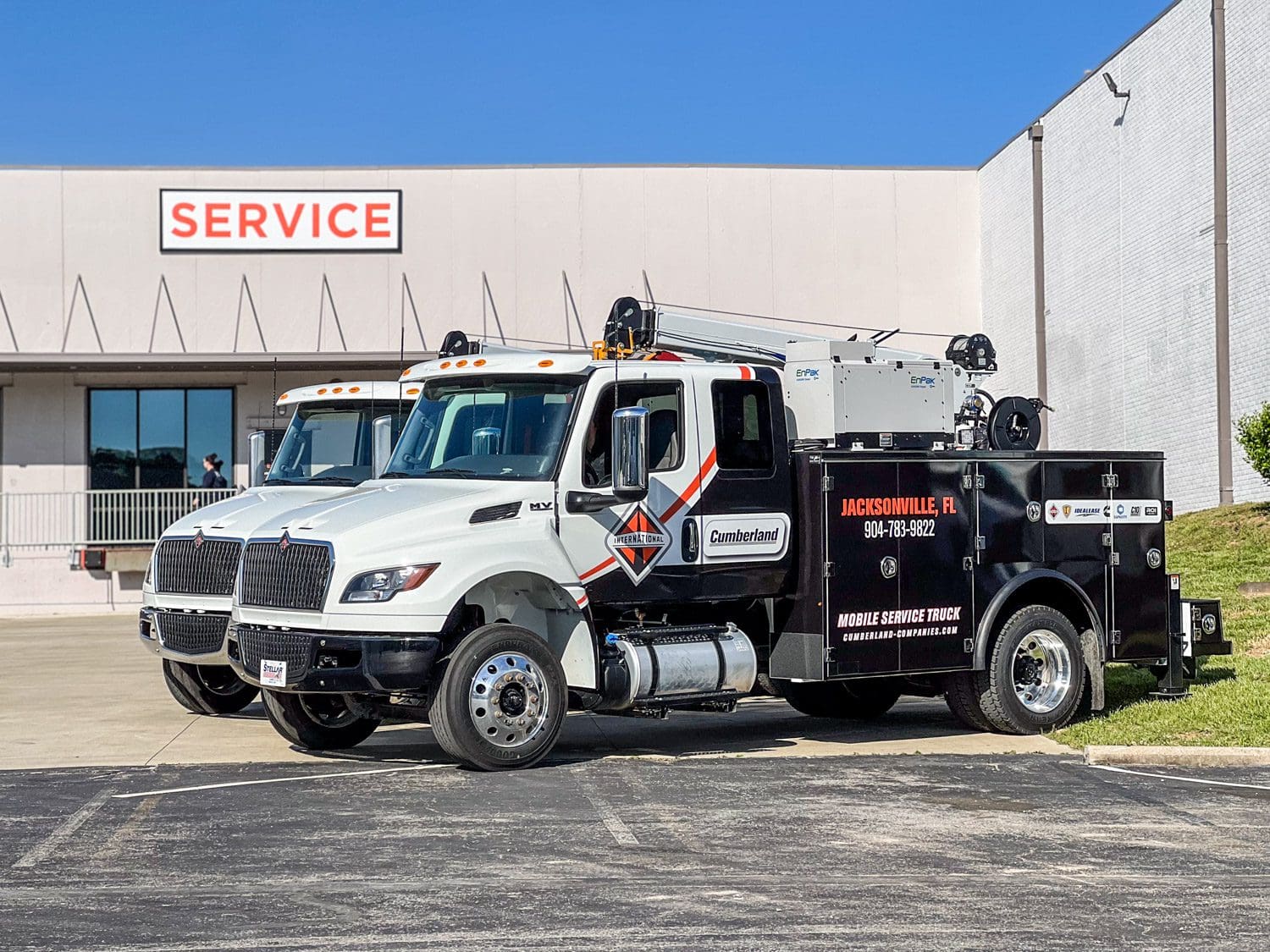 Mobile Service Technicians
Emergency Repair and Mobile Maintenance Available so you can get back on the road NOW.
Our mobile maintenance teams will bring the shop to you. If your truck breaks down and you can't get to us, we'll come to you with emergency repair help. Our traveling mechanics are ready to help when you need it most. In an emergency.
ALL MAKES AND MODELS
Our diesel truck technicians are highly qualified and work on all makes and models!