NextGen C10 is fresh off its latest test run and performing as well as Santa and his reindeer on Christmas Eve. And considering Santa and his reindeer run off cookies, milk and carrots, that's extremely impressive!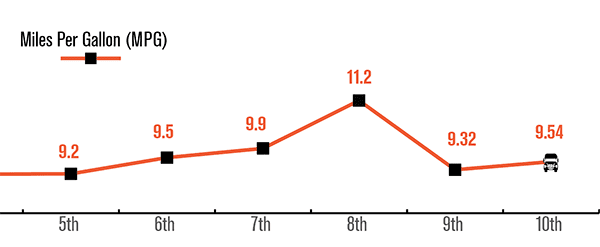 Over 12,494 miles, NextGen C10 was able to achieve overall fuel economy of 9.54 miles per gallon. During the test run, the driver(s) managed to use cruise control 71% of the time and averaged over 9.70 MPG. Even more impressively, while NextGen C10 was in top gear it averaged 10.19 MPG. I cannot express how important it is to maximize the time in cruise control. If the truck is set up correctly, drivers will achieve best fuel economy!
Life to date, Next Gen C10 is proven to be the strongest truck on the market! At the end of the year, I cannot wait to share the results of 2017.
Clink on the link to the ECM image to see the rest of the results during NextGen C10's 10th test run!
See the MPG stats for Run 10 (Click Here).  
See all MPG stats (Click Here).
---