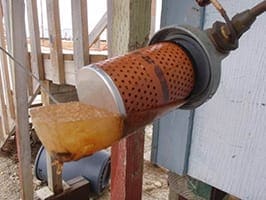 Can you believe winter is just around the corner?! Although it still feels like 90 degrees outside (at least in my hometown of Nashville), it will soon be time to crank up that fireplace and sip on your favorite hot beverage. So, are you ready? More importantly, is your fleet ready?
Make sure winter diesel is on your checklist for all weatherization services. Diesel fuel will turn to gel in extremely cold temperatures. In fact, number 2 diesel fuel (summer fuel) will start to gel at temperatures between 10-15 degrees Fahrenheit. When temps drop below 32 degrees Fahrenheit it is a good time to start thinking about switching to number 1 diesel fuel or carrying an additive.
Number 1 diesel fuel and fuel additives lower the gel-point of diesel, allowing trucks to continue operating in temperatures as low as -50 degrees Fahrenheit! It is also handy to carry a product such as Diesel 9-1-1 or similar. This is a chemical you can add to your fuel tank to help thaw the fuel if it has already started to gel and may save you some serious downtime as well as an expensive tow bill. If you are wondering how much additive to add, you can find a handy chart here .
Contact our parts department to order your additive today at 615-829-7860.
Another way to weather the cold is by purchasing a Capacity truck built specifically for cold weather environments. For more information, give me a call at 615-499-1518.
Winter is on its way so it's best to be prepared. Make a list of all necessary preparations and stick to it. What may cost you extra time and money today will save you in the long run.