Tennessee Farmers Transition from Tobacco to Indigo Crops
Cumberland Tractor & Equipment customer, Austin Woodall and fellow Robertson County farmers were showcased in a new commercial for Patagonia clothing. The commercial focused on farmers growing a relatively new crop for the area, indigo.
The primary use for indigo is as a dye for cotton yarn, which is mainly for the production of denim cloth for blue jeans. Austin not only grows indigo on his family farm, he also works for Stony Creek Colors, the company responsible for bringing the indigo concept to this area.
<iframe src="https://www.facebook.com/plugins/video.php?href=https%3A%2F%2Fwww.facebook.com%2FPATAGONIA%2Fvideos%2F10160916992160457%2F&show_text=0&width=560" width="560" height="315" style="border:none;overflow:hidden" scrolling="no" frameborder="0" allowTransparency="true" allowFullScreen="true"></iframe>
Local farmers have been growing tobacco for generations and Robertson County is known as, "Dark Fire Tobacco Capital of the World." Transitioning into a new crop typically would be a hard change for farmers, but the timing was right and tobacco farmers are looking for ways to diversify.  Austin's family has completely transitioned from decades of growing tobacco to other crops.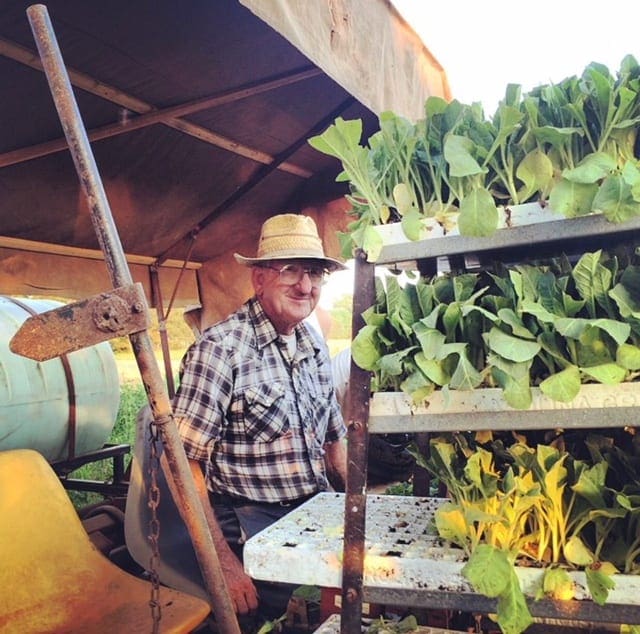 Austin Woodall's grandfather – The last year the family grew tobacco before transitioning to other crops, including indigo.
Stoney Creek Colors of Springfield, TN provides the indigo seeds or seedlings to the area farmers. Farmers plant the seedlings and are paid per acre of successful crop. When it is time to harvest, the Stony Creek Colors team harvests the leaves of the indigo plants and extracts the indigo dye at the 80,000 square foot warehouse. The green leaves are processed in big vats to be transformed into a blue powder dye for textile companies, like Patagonia to use in their denim line.
Disclaimer - All information, inventory, photos and pricing are subject to change without notice. All liability expressly disclaimed. Copyright Cumberland Companies © 2020